I was recently reading Lego's annual report and came across their Organisational Structure (below). There is always a question as to the true day-to-day usage of such a significant shareholder document. However, it made me question Organisational Structures in general and how little diversity there is. The reality is that most Food Manufacturers operate with a traditional hierarchy.

A hierarchy on a piece of paper may seem inconsequential, and of course corporate culture can indeed override the short falls of a traditional hierarchy. However, largely speaking, the paper display is reflected in day-to-day working relationships and business performance.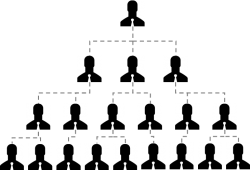 Traditional Hierarchy Structure
Shows clear lines of communication and accountability. Can be seen to encourage silo mentality where cross level communication is not encouraged and the direct manager is overwhelmingly the important focus point for an employee. Collaboration is not encouraged as employees are not given autonomy to pick up a project or to innovate and build a team to support. A traditional hierarchy is useful where creative thinking is not required and clear communication is necessary.
Flatter Structure
A flatter structure is positive for a reduction in bureaucracy and reports as communication is encouraged across all levels. This allows those further down the hierarchy to work with their colleagues and collaborate to solve problems. This works to engage and empower employees which can be motivating for those who can operate productively with a level of freedom.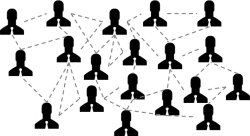 Self-Managed
Total autonomy to self-appoint and deliver. Individuals are responsible for deciding what projects they want to work on and for assembling a team to deliver. It allows them to pursue their interests or where their skill set is most required. Ensures all are motivated as they have chosen what they want to work on. This structure is potentially impractical for a large organisation, but for a small company where creativity is important, this could be optimal.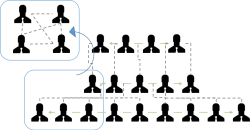 Flatarchies
A hybrid of a traditional model and spin off teams who work on specific projects. in terms of the specific project this could be self-managed or set as a directive from senior management. This aspires to harbour innovation or improvement as well as deliver a steady repeatable output day-to-day.
There are other possibilities outside of the ones we touched on here, and it's important to select the most appropriate based on several factors. The market requirements, the realistic capability of people, the span of control, and how best to support the aspirational company culture are some of the most important. When arriving at a new structure, it is important to start a consultation throughout the company to listen to where people see issues. This not only engages colleagues but also provides important insight into how to get it right. Whatever the appropriate change a company arrives at, starting the conversations internally and reviewing the importance is certainly a necessary and indeed positive start.
Written by Chris Allen, Coriolis Consulting Pty Ltd
References:
https://www.lego.com/en-us/aboutus/lego-group/management
http://smallbusiness.chron.com/choose-right-organizational-structure-2780.html
https://www.icas.com/ca-today-news/four-organisational-structures-unravelled