October 14, 2015 12:01 pm
In my previous article on maintenance, I talked about the simple model I developed with a colleague around delivering effective maintenance support to an organisation.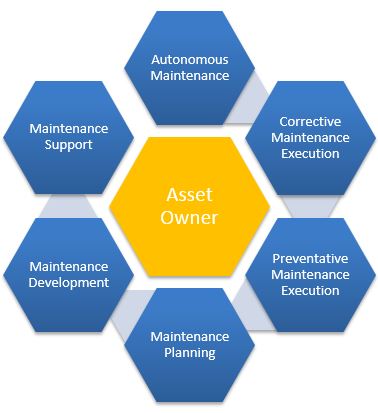 This was through growing capability across a number of key enablers:
Maintenance Organisation

Maintenance Workflow

Spares, lubricants and special tools

Contractor & service management

Budget Management and the Critical Back Log

Safety and Compliance
As capability in these six key areas grows, the organisation becomes more effective at keeping the operational assets fit for use in the hands of the user at best cost through increasing confidence over a number of maintenance deliverables:
Fix – Corrective work to restore a failed asset back into use. The area where far too many maintenance organisations focus all or most of their effort
Solve – The much harder piece of activity, identifying why an asset failed in the first place
Develop – Using the problem solving above to develop new maintenance tasks or operating methods that reduce the likelihood, or the impact of, future failure
Schedule – Ensuring that the right skills, tools, spares and resources are available at the same time as the asset is out of use, to complete any planned maintenance work
Execute – Perfect execution of all planned tasks to ensure right first time every time of the maintenance task. Underpinning this is constant shop floor coaching of the maintenance technicians
Review – Following up post the maintenance execution to understand if what was experienced on the asset was what was expected
In this article, I'd like to expand on the key components of an effective maintenance organisation. Whilst this article is aimed at production facilities with a reasonable degree of complexity, the underlying principles hold true for smaller organisations, though in these cases, individuals will perform activity defined over multiple roles.
Key throughout this is the fact that there is no such thing as the "right" maintenance organisation, it depends on too many factors that are unique to each organisation and production facility, not least the capability of the people in the organisation. This article sets out some underlying principles that should be applied when you design your maintenance structure.
Common Organisational Challenges
Some or all of these challenges will ring true with any maintenance professional, even if you are privileged to be a part of a high performing maintenance team. I have certainly experienced all of these first hand both as an engineering and as an operational manager.
Maintenance Execution

Execution discipline is low with poor plan achievement
History of failed attempts to integrate preventive maintenance in shifts with poor supervision and leadership of shift maintenance staff
Different maintenance activities not aligned with each other or the production schedule

Focus and skill

Excessive focus on breakdown maintenance, with preventive and planned activity dropped as people rush to the scene of the latest crisis
No equipment oriented "specialisation" and "ownership" of the maintenance staff
Lack of problem-solving capacity or understanding of the fundamental working principles of the assets
Poor understanding of the control environment leading to simple automation issues generating excessively long breakdowns

Priority and co-operation

Planned maintenance last priority
Lack of planning and maintenance engineering capability
Poor alignment between engineering and operational departments
In many cases, these issues can be traced to a lack of capability or resource in key maintenance roles.
Key Maintenance Role Deliverables
In order for a maintenance organisation to be effective, there needs to be clear capability over a number of specific areas. These are:
Asset owner – the Asset Owner needs to be at the heart of the maintenance function, as only he is using the asset to generate wealth. Too often you see operational managers with no interest in the maintenance of the asset and no understanding of the maintenance strategy in place. This is normally exacerbated by maintenance professionals failing to communicate the strategy effectively. We all intrinsically understand this for our homes and cars, then too many forget it in a work environment. The Asset Owner defines:

The requirements of the asset for wealth creation: what volume is required over what period of time
The resources available to care for the asset: financial and people
The acceptable risk profile for asset failure: it's ok for a packaging line to stop, it's not ok for an aeroplane to fall out of the sky
The availability of planned downtime for the asset

Autonomous maintenance – this is the simple operator executed activity that reduces asset deteriorations and acts as an early warning for unavoidable deterioration. Typically it consists of cleaning, lubrication, inspection and tightening activity on the asset and requires a good understanding of what the required standard should be. We are all able to put air in our car tyres, but we do need to know what the pressure should be. There are multiple benefits to getting to a stage where routine maintenance can be executed by the user:

Better understanding of the asset and a higher degree of ownership
Maintenance performed at a lower cost
Faster identification of deterioration from the standard
Frees the technicians from more routine activity, allowing them to focus on loss elimination

Corrective maintenance execution – Too many organisations revel in capability in this area, and extoll the hero culture of the person who got the asset running again, without asking themselves why it broke in the first place. However, for many assets there is a need to have on-call maintenance support, waiting like a coiled spring, for an asset to fail so they can leap into action and restore operation. However, all too often, the maintenance cycle stops at this point and they focus on fixing symptoms not solving root causes. The corrective maintenance technician needs to be a jack of all trades, master of none and, in the increasingly automated world of modern production assets, will need a good understanding of the control environment and the automation systems in place. Of course, this resource needs to be scheduled to attend work when the asset is in planned production.
Preventative maintenance execution – Once these resources are in place, assuming that the next two roles are able to support him, we now start to see the organisation moving from a reactive to a proactive culture. Technicians supporting in this area need to be subject matter experts in the assets they support, able to see beyond the immediate symptom of a failure, to the underlying issues that have caused an actual or potential failure. Unlike the corrective maintenance team, they need to be available when the asset is not scheduled to run. Where organisations attempt to deliver this activity with on-shift resource, this activity is either delivered badly or not at all, and the organisation never breaks out of the reactive cycle.
Maintenance Planning – A greatly undervalued role by people who don't understand maintenance. This is the role that ensures all the resources are working to peak efficiency, and are not hampered by a lack of spares, tools, resources and the like. The Maintenance Planner doesn't spend his time sitting in front of the CMMS, he ensures alignment with operations and makes sure all the required tasks and resources are available to minimise the time the asset is shut down for planned work, maximising it's availability to generate wealth.
Maintenance Development – It is this role that defines the right maintenance strategy for the asset, taking into account its criticality, possible failure modes, resource availability and the asset owner's attitude towards risk. This role defines the right balance of run to fail, scheduled replacement, scheduled inspection and condition based monitoring to ensure that the likelihood of a maintenance failure is reduced as close to zero as is economic, and that the impact of any maintenance related failure is minimised. This is the role that defines and develops the maintenance strategy.
Maintenance Support – There is a broad range of activity required to support the maintenance function, the size and scope of which is driven by the asset base and the type of organisation. In this area we see a number of functions delivered, typically including:

Engineering library and asset documentation
Control of change and minor modifications including software version control
Contractor management
Legislative control, inspection and documentation
Conclusions
As discussed at the beginning, there is no such thing as a perfect maintenance organisation or an ideal structure. However, what you do develop needs to have the activity above built into the responsibilities of specific roles within the team. The balance of technician resource between shifts and days. An organisation with all the resource on shift will never break out of a reactive culture. Likewise an organisation that is unable to effectively plan and schedule it's maintenance resource will never deliver a cost-effective maintenance function. Most importantly, a maintenance team that does not put the asset owner at the heart of the maintenance strategy will never be truly aligned to the organisations strategy and will ultimately disappoint.
Written by Richard Jeffers, Business Unit Director