According to the latest YouGov Survey 22% of the population believe they suffer from a food allergy or intolerance, with this in mind how much of the market do many food producers overlook? Or has the recent news surrounding the contaminated raw material in a "free-from" product highlighted how difficult this market is to serve?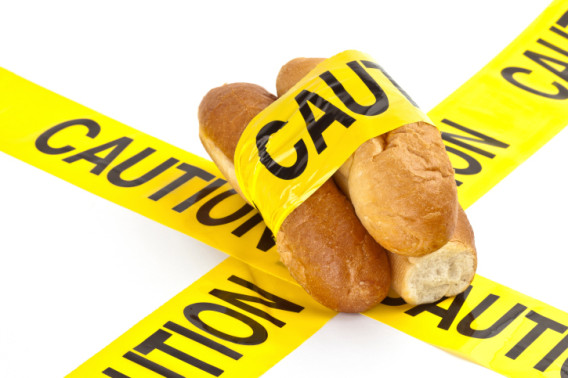 As the husband of an allergy sufferer which also restricts what I can consume at home, how could this part of the market be served without incurring additional cost or impacting the product, keeping both allergy sufferers and the rest of the family happy with the range of products on offer?
In 2011 £238 million was spent on "free-from" products, doubling over the last 5 years and continuing to grow with an estimated 1 in 3 households affected. It is certainly a market worth considering.
Improve labeling when the risk is minimised
One of the biggest issues when living with an allergy is being unsure of what you can or cannot consume based on labeling as many will warn of potential cross-contamination, when in reality the risk is so minimal the cost incurred by producers to reduce this risk is extensive. So instead of a label reading "this product was produced on a line which handles wheat or gluten products", it should read "whilst this product was produced on a line which handles wheat or gluten products, we strive to ensure the line is free from contamination thus the risk is minimal", it's a bit of a mouthful but the risk is very low in most cases. Not all allergy suffers will take the risk, but you are leaving it to the consumer to make a balanced judgement.
One way around the issue is removing the need to put this warning on the label at all, through the use of completely gluten free ingredients.
Ingredients
Following recent food scares, more consumers are looking at the makeup of the food they eat. For someone with a food allergy this is common place, but a number of food products are unsafe due to one (seemingly unnecessary) ingredient. Why does a premium beef burger or 99% pork sausage still need to contain wheat flour when other manufacturers can produce an almost identical product with no wheat flour and thus safe for the whole market? And at the same price…
Dried packet mixes often have a common ingredient in the addition of wheat flour. Though there may be other reasons unknown to me, two key reasons are for the flour to act as a thickening agent or to bulk the product out, so what is a universally safe alternative, or could this be removed in some cases entirely? A small change to the recipe could result in a cost saving, as when you look at the value end of the market a number of products are wheat-free as there is little need to bulk the packets out.
Where next?
Food allergies are fast becoming big business but why is this currently seen as a niche market? This shouldn't be about making a dedicated "free-from" product range, but making your current product range suitable for a wider market.
Written by David Strudwick
References:
http://www.bbc.co.uk/news/health-17373904
http://www.indexmundi.com/commodities/?commodity=corn&months=60&commodity=wheat
http://www.foodmanufacture.co.uk/Ingredients/UK-allergy-intolerance-rises
http://www.foodmanufacture.co.uk/Ingredients/UK-allergy-intolerance-rises