A visual workplace is a self-ordering, self-explanatory, self-regulating and self-improving work environment – where what is supposed to happen does happen, on time, every time, 24/7.
Visual management is used to display and monitor the key performance measures that guide improvement. It allows teams to understand immediately how a process is performing, without the need to stop or leave the workplace. Team members are kept aware of current quality, cost and safety performance and can use their input to suggest improvements.
The use of a visual workplace builds a team ethos and generates ownership of tasks, ensuring everyone shares a common understanding and remains focused on the key areas. As decisions are made more effectively and communicated quickly working time is also used to greater advantage. In addition, reviewing performance in this way makes it easier to track progress and thereby establish and embed a continuous improvement culture. The intention is that problems are solved at the lowest level rather than referred up. Many successful organisations use this as key Lean tool to drive improvement and engagement.
In summary a visual workplace can: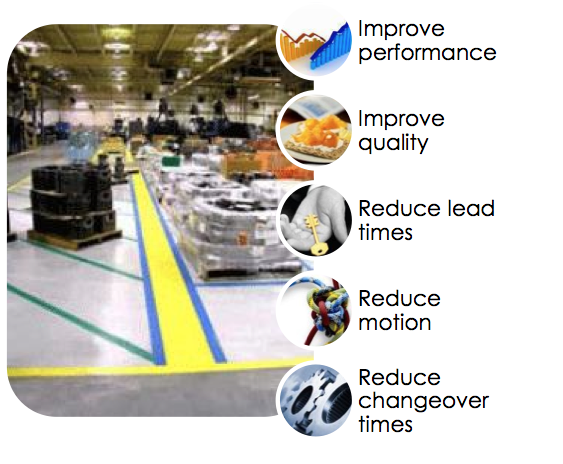 VISUAL THINKING
A person or organisation who thinks visually is:
"One who recognizes motion and the information deficits that cause it – and knows how to eliminate both through visual aids"1
Motion is moving without working1. It is the corporate enemy since when people are in motion they are away from the area in which they add value.

To start eliminating motion you need to ask two simple questions:
Question one: "What do I need to know?"
What do I need to know that I do not know right now in order to do my work – or do it better? (Note: it is "I" not "we")
Question two: "What do I need to share?"
What do I know that others need to know in order for them to do their work – or do it better? (Note: it is still "I" driven)
Basing the visual tools and functions around these two questions creates a visual workplace which is effective and efficient.
SIX CATERGORIES OF VISUAL FUNCTION
Creating a Visual Workplace is not as simple as installing a few performance boards, there are six categories of Visual Function: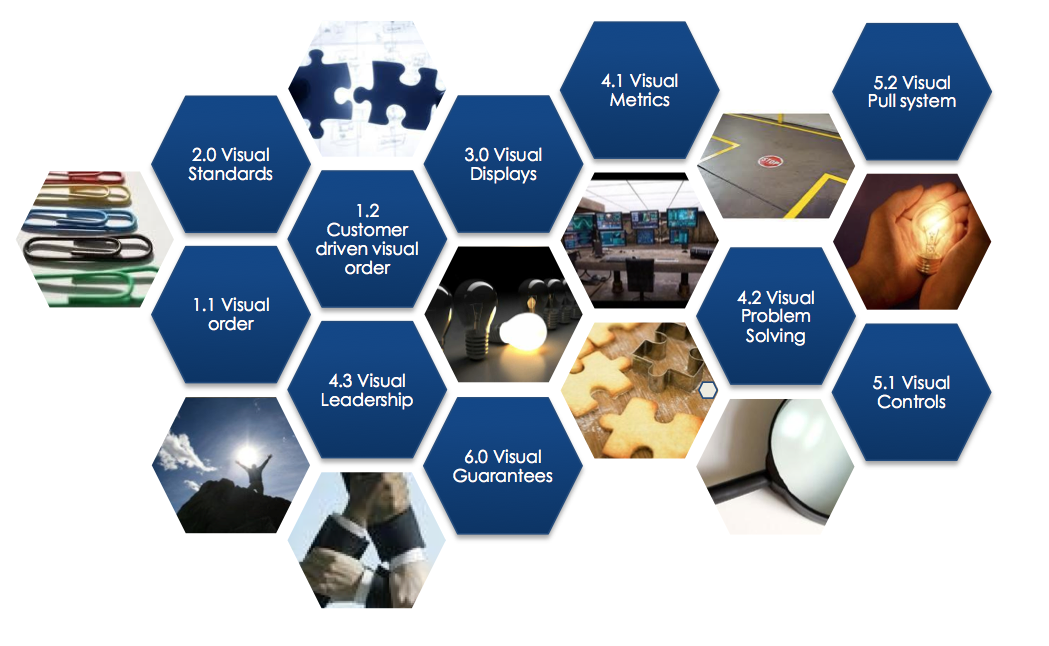 VISUAL WORKPLACE IN PRACTICE
Coriolis has worked with clients to install a range of Visual Functions on production sites across the UK and abroad.
CASE STUDY – GÜ DESSERTS
With space at a premium in the London factory, order and efficiency is critical to luxury chocolate dessert manufacturer GÜ Desserts. In the course of a project to maximise throughput, Coriolis worked with GÜ to install a number of visual tools that improved performance. Two areas in particular were of great importance:
Understanding line performance
Controlling material flow to reduce downtime
Understanding the performance
Visual displays and Visual Metrics were designed and installed to enable team members to understand a situation at a single glance, make decisions and take actions.
Too many companies treat shop floor data as something that is collected to be analysed later, this is a great lost opportunity. Visual metrics monitor current performance (short interval control) and report back – provoking a response to drive instantaneous corrective action. Their immediacy and proximity to the shop floor is invaluable in identifying root cause in a way that data analysis can never achieve.
Morning and evening shift reviews were installed on site, in which the previous shift's performance and downtimes' were discussed. Fig. 3 shows the main performance board. A performance management system (MiMo), designed by Coriolis, was installed on site to provide live performance data for each production line. Fig. 4 illustrates how the software can be remotely accessed to provide live data 24/7. The information was updated every three hours (other options, including continuous data capture are also available) and if there was any deviation from the set performance target, action was taken immediately, rather than reviewing the problem the next day – when it is too late.

Fig. 5 demonstrates an example of visual metrics being used on the line side. This tool highlighted to the line crew when performance was below target. Text boxes were present for operatives to record the cause for the poor performance and whether it had been resolved.
Control of material
Visual controls require little or no interpretation – the device is the message. They help people do ordinary things extraordinarily well, visually answering the quantity based core questions; how many or how much, when or how long. They use structure to share information and become more powerful when linked with other visual controls, for example those related to material replenishment and flow. When linked they can trigger a chain of responses.
The systems used at GÜ Desserts were Kanban (figs 7 & 8) and Two Bin (figs 8 & 9)
The first step to take was to create visual order so that each item has its' place. This involved setting out boundaries and location ID's in the material decant corridor (see fig 7).
Asking the two core questions "What do I need to know? And "What do I need to share?" enabled suitable Kanban and Two Bin systems to be designed and installed. As a result materials were pulled through the system rather than pushed. When materials were running low or a required for a changeover, operators were warned in good time and downtime 'waiting for materials' was eliminated.
FOCUS
Creating a fully functional visual workplace rarely works first time. It is a combination of: Methodology and Inventiveness.
Focus on one area initially to install visual systems and make an "area of excellence" for the rest of the organisation to follow using the two questions stated at the start and the six visual categories, The success of the pilot will dictate the success of the whole programme so make sure you get it right before you move on, and involve someone you know has succeeded with it before.
Good luck!
REFERENCES
Visual Workplace – Visual Thinking, Gwendoline D. Galsworth, Visual-Lean Press (2005)
Written by Amir Sadreddini, Consultant
type amir.sadreddini@coriolis.co.uk chat +44 7708 395 559 talk +44 8452 263 364