There are 3 key sources to improving performance
All 3 are necessary, but themselves insufficient to meet global standards.
For any business one of the key goals of any change programme must be the creation of an organisation which is capable of generating AND sustaining continuous incremental improvements. However, this must be integrated with Business process re-engineering initiatives and technological innovation in order to truly excel.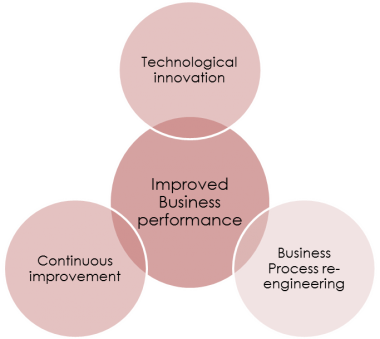 Technical innovation must be interspersed with Continuous improvement to secure its benefits. Similarly Business Process Re-engineering initiatives must be built on with Continuous improvement to enhance its improvements further.
There is no significant differences between the technologically innovative capabilities of businesses or the Business process re-engineering programmes over medium time frames. However, the best performing businesses are the ones that embrace and engage Continuous Improvement most effectively. 
Question whether processes should be improved, eliminated, or disrupted.
Too many "continuous improvement" programmes focus so much on gaining efficiency that they don't challenge the basic assumptions of what's being done. 
Customise how and where continuous improvement is applied.  
One size of continuous improvement doesn't fit all parts of the organisation. The kind of rigor required in a manufacturing environment may be unnecessary, or even destructive, in a research or design shop.  It's important to inject discipline into product and service development, but not so much that it discourages creativity.
Assess the impact on company culture.
Take a hard look at the cultural implications of continuous improvement. How do they affect day-to-day behaviours? A data-driven mind set may encourage managers to ignore intuition or irregular data that doesn't fit preconceived notions. In other cases it causes managers to ask execution-oriented, cost-focused questions way too early, instead of percolating and exploring ideas through messy experimentation that can't be justified through traditional metrics.