January 17, 2017 12:30 pm
On 1st January this year, Finland began an intriguing experiment which saw the first national trial of a Universal Basic Income (UBI).
The idea of a UBI has been touted by many as a necessity as the world of automation pushes forward and fewer jobs become available.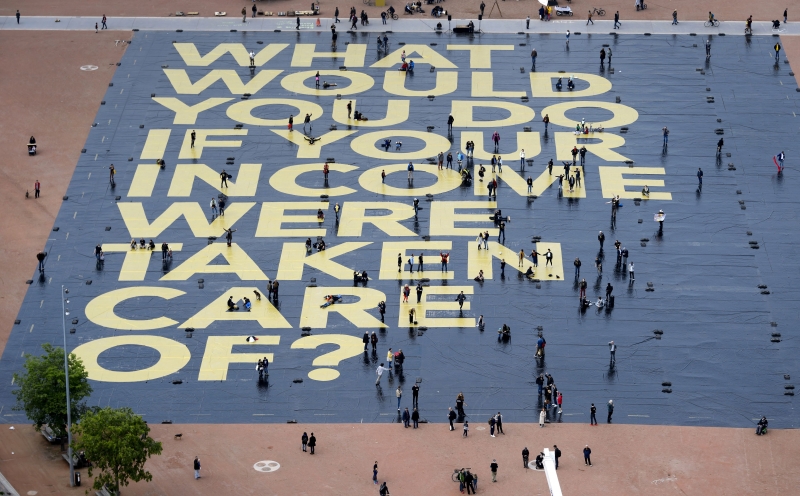 The Italian city of Livorno has been handing out money to some of its poorest families since June 2016.  Various trials have been run in Namibia and India, with the largest involving 6,000 people across 8 villages in India. The trials reported major benefits to the individuals, the communities, and the economy.
The Netherlands have several pilot schemes lined up in various cities in 2017, as have Ontario in Canada, Oakland in California, Aquitaine, and Catalonia.  Fife and Glasgow may also stage a trial this year.
Bucking the trend, Switzerland voted against a national UBI in June 2016.
With a working population of 2,413,000, Finland's trial is focused on 2,000 people randomly selected from 213,000 unemployed residents, with no opt-out clause.  For the next two years, they will receive €560 (£490) per month, irrespective of whether they find employment, go on long term sick, or start studying during that time.  They don't have to fill in any paperwork, and they don't have to feedback on their current status or how they spend the money.
The belief is that people with a basic income will be more willing to adopt short term contracts, start their own business, learn a new skill, or take on voluntary roles. A basic income will empower the individual and open doors that were previously inaccessible; putting childcare and transport costs within reach, and helping individuals to become financially independent.  Self-employment becomes less of a risk, and those with an entrepreneurial spirit can explore their horizons, safe in the knowledge that they have a basic income.
Those that don't want to work or can't won't cost the state any more than any other individual, as there is limited administration surrounding the process.  Those taking time to raise their family feel more valued and supported by society. With a basic income, the money is yours with no strings or arduous paperwork or processes attached.
So, what's not to like?
The main argument 'against' seems to boil down to the cost. Reports suggest the key reason 75% of the Swiss population voted "No" to a Universal Basic Income was because welfare spending would need to increase from 19.4% to 33% of the country's GDP, having proposed a basic income of 2,500 sFr (£1,980). That wouldn't be achieved without raising taxation, or cutting spending elsewhere.
Looking at the cost to implement a similar scheme in the UK, redistributing 2014-15 spending on welfare (£258 billion) across the adult population (64.6 million 2014 ONS) would mean receiving a monthly income of £332 (or £409 if we exclude the 18.8% of under 16's).  On that income, people would still need to work.  We would need to almost triple the spend to support a workable UBI, but how much is enough?
Assuming that everyone earnt the same, would that help to spread wealth throughout the UK, with people moving away from the expensive South East in order to gain a better standard of living?
Would a newly empowered workforce who didn't need a job to survive be more accepting of short term work? Or would they make demands on their employers to improve their work-life balance?  Businesses dependent on manual labour might find it even more difficult to attract labour with the long, anti-social hours of traditional shift working patterns.  Alongside the less desirable jobs in society, wages may need to increase to attract workers to take on such roles.
In this pre-Brexit era, it's difficult to consider what the impact might be on immigration. Assuming a UBI was open to all residents, which country would be brave enough to go first? And would the European country with the highest basic income by default then become the most attractive proposition, irrespective of previous high-priority considerations such as job opportunities?
Fast forward 15 or 20 years and consider a society dependent on a basic income.  It's difficult to predict how many jobs will be filled by robots, perhaps in the much sooner future, but will it be too late? Will we have devolved into a world of couch dwellers who are happy with our lot, or will we be living in a prosperous society where opportunities abound and a happy, flexible workforce move freely between jobs whilst enjoying a work life balance of their choosing?
All eyes will be on Finland in two years' time to see the results, but will it really prove anything either way? How big does a trial need to be to understand the true impact on society and the economy?  Who's in? Not Switzerland that's for sure.
Sources:
http://www.bbc.co.uk/news/world-europe-38593513
https://www.theguardian.com/politics/2016/apr/13/should-we-scrap-benefits-and-pay-everyone-100-a-week-whether-they-work-or-not
https://www.theguardian.com/world/2017/jan/03/finland-trials-basic-income-for-unemployed
http://basicincome.org/news/2016/07/response-the-economists-basically-flawed-anti-ubi-argument/
http://visual.ons.gov.uk/welfare-spending/
http://uk.businessinsider.com/universal-basic-income-scheme-for-the-uk-2016-6
Written by Charlie Woodward, Coriolis Ltd